Wenn die Pressemitteilung nicht richtig dargestellt wird, klicken Sie bitte hier.

Press Release
Assmann Electronic promotes and sources renewable energies from solar and hydropower
Luedenscheid, 17. Febuary 2020 – To improve its environmental performance and reduce the company's ecological footprint, Assmann Electronic GmbH founded the "Assmann goes green" initiative in 2019. In the course of this initiative, the company is focusing entirely on renewable energies.
The driving force behind the initiative and co-managing director of Assmann Electronic, Phil Penninger, attaches great importance to involving trainees in future-oriented projects, such as the initiative. "Environmental management is not exclusively a matter for the management", emphasises Phil Penninger, Managing Director Operations. "The trainees have formed independent small groups according to their interests and implement the jointly defined measures according to the plan.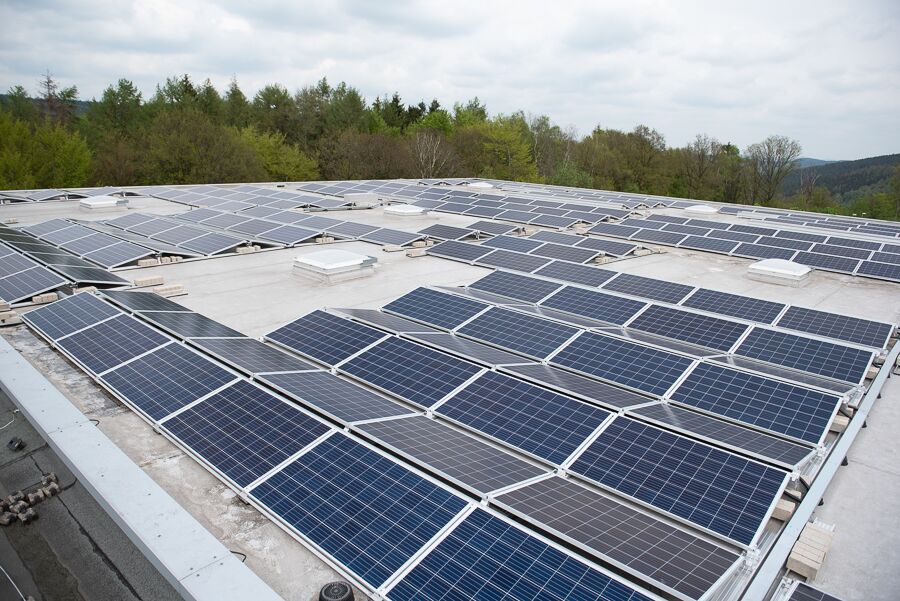 A project group is dealing with the topic "buildings and consumption" and developed a concept for environmentally friendly energy supply.

Since 2019, a total of 872 photovoltaic modules on the roofs of Assmann Electronic have been generating around 195,000 kilowatts of solar power annually - that is around two thirds of the company's total electricity requirements. The company also uses this energy to charge its own hybrid vehicles.

Certified energy from hydropower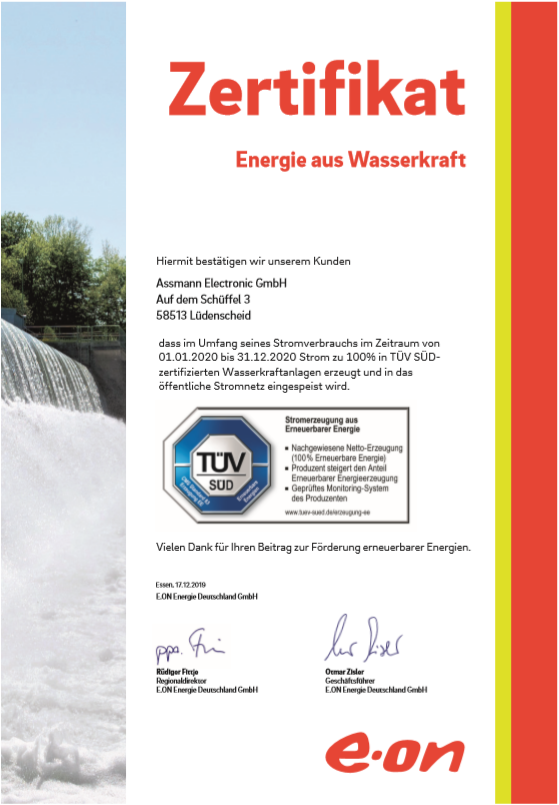 Since 01.01.2020, Assmann Electronic has been procuring the electricity it needs from TÜV-SÜD-certified hydroelectric power plants. This means that all electricity comes exclusively from sustainable energy sources.
"We are delighted with the successful completion of the project and look forward to implementing further measures", summarises Jonas Heldmann, a second-year trainee in wholesale and foreign trade.
(FS/240)
About the ASSMANN Electronic GmbH
Assmann Electronic GmbH was founded in 1969 in Lüdenscheid, Germany, as a manufacturer of connectors and adapters for internal and external computer cables. Today, the company sees itself as a solution provider for data network technology with Digitus brand products for network technology, network and installation cables, network and server cabinets, computer cables, computer components and video solutions. The Digitus brand was introduced back in 1994 and is now known worldwide for its high-quality product portfolio and excellent price-performance ratio. Today, the Assmann Group has subsidiaries in Austria, Switzerland, France, Croatia, Poland, Turkey, China, Taiwan and Hong Kong and delivers its products to distributors, retailers, system integrators, OEMs and corporate resellers worldwide.
Your contact persons for further information and picture material:
ASSMANN Electronic GmbH
If you no longer wish to receive our press information, you can simply unsubscribe from our e-mail distribution list. To do so, write an e-mail to presse@assmann.com with the subject "Unsubscribe PR". Your e-mail address will then be automatically deleted from the mailing list. If you would like to update your contact details, please send us an e-mail to presse@assmann.com with the subject "Update contact details".