If the newsletter can't be displayed properly, please click here.
Press release
Elegant wood design and extra-quiet fan


Assmann presents new designer server cabinets

Lüdenscheid, 10thJune 2014 -With the new Digitus SOUNDproof range of server cabinets, Assmann makes IT-technology elegantly disappear, and at the same time ensure that noise generation remains as low as possible. The SOUNDproof cabinets are available in six different wood looks as well as three different height units. Thanks to a special insulation material, the cabinets absorb the often disturbing noises from the hardware.
IT hardware is often in the immediate vicinity of the workplace. Yet large server cabinets are often not particularly visually appealing. In addition, unfortunately, the annoying extraneous noise of the components hardly allows any concentrated work in offices or seminar rooms. The new server cabinets from the Digitus Professional brand are the ideal solution for this: They are elegant, space-saving and low-noise.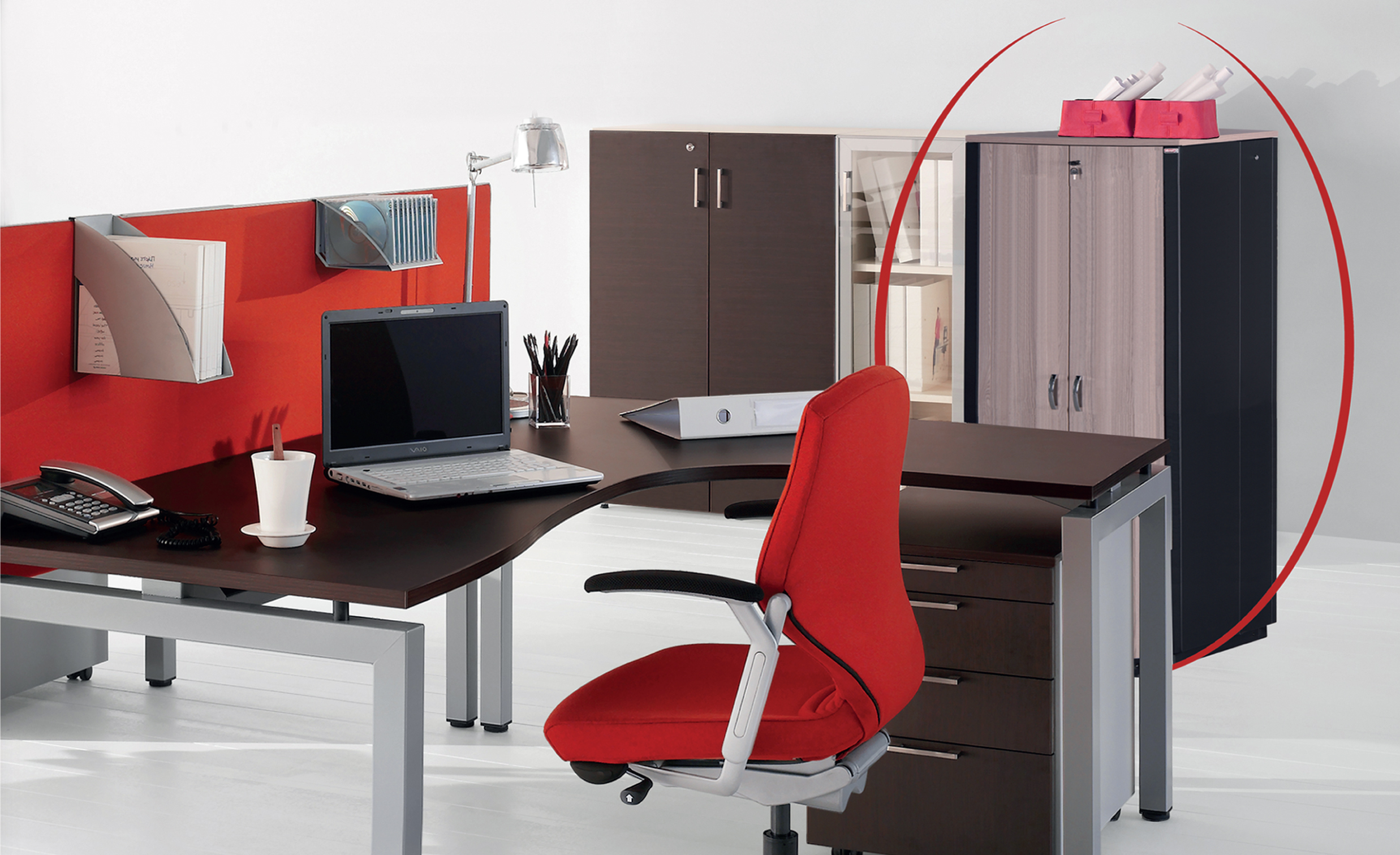 The SOUNDproof server cabinets are equipped with a particularly quiet ventilation system. The sound level is a maximum of 29 - 30 dB. In addition, special insulation material absorbs the noise of the active elements fitted inside the cabinet. Thus the cabinets can be ideally deployed in banks, hospitals, laboratories, hotels or conference rooms; in short, wherever quiet is necessary.

Safety aspects were taken into account in the design of the new server cabinets as well: the double-winged front door is fitted with a central locking system, and the side panels are also lockable. The side panels can be detached and removed completely. In this way, the IT-administrator can easily reach the installed components.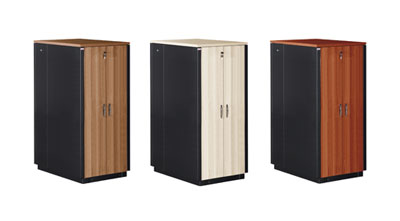 The SOUNDproof range of cabinets is available with 17, 32 or 42 height units, with a width of 750 mm and a depth of 1130 mm available. The stable steel carcass provides space for all current 19" components and has a load capacity of up to 1,000 kilograms.
The cover panel and the front doors of the SOUNDproof server cabinets are executed in wood look. The following options are available: maple, teak, walnut, oak, cherry and beech. Like this, the cabinet fits in perfectly with the existing furnishings, and can also be used as additional storage space for document files or file boxes.
The Digitus SOUNDproof cabinet range in detail:
Elegant server cabinets in wood look
Wood surfaces: Maple, teak, walnut, oak, cherry and beech
Cable input integrated into the base
Double-winged front door with central locking
Rear door with 3-piece area for fan units
Lockable and removable black metal side panels
Reduced noise from the components installed inside
Sound-reducing insulation material
Quiet ventilation system, max. 29 - 30 dB
Available sizes: 750 mm (width), 1130 mm (depth)
17 U, 32 U or 42 U
Load capacity: 1,000 Kg
Retail price: from € 539.00
Available now
(276/KSt)
If required, journalists can get high resolution images via the below-mentioned press contact.
Dealers get more information under www.business.assmann.com. The products are available at the known distributors.
About ASSMANN Electronic GmbH

ASSMANN Electronic GmbH was founded in 1969 in Lüdenscheid, Germany, as a manufacturer of connectors and adapters for internal and external computer cables. The DIGITUS brand was established in 1994 and is now well-known in many markets for its "Best Value for Money" quality. Today the ASSMANN group owns branches in Austria, Switzerland, France, Croatia, Poland, China, Taiwan and Hong Kong and supplies his products to IT distributors, retailers, system integrators, OEMs and corporate reseller worldwide. The major part of the product range consists of the DIGITUS brand, which includes active and passive network components, KVMs, cables, adapters as well as innovative technical solutions. As a part of the ASSMANN group the consumer brand ednet offers since 2012 colorful und convenient products for offices and home offices as well as mobility gadgets. For professional network solutions, the company designed the brand DIGITUS professional. From cabinet systems with power supply and air conditioning of data centers, right up to pre-assembled fiber optic links and corresponding metrology, ASSMANN offers solutions from one source.


Please contact us for further information or images:

ASSMANN Electronic GmbH
Stefanie Broeder
Auf dem Schüffel 3
Tel.: +49 (0) 2351 554 - 660
presse@assmann.com
58513 Lüdenscheid, Germany
Fax: +49 (0) 2351 554 - 99 660
PR von Harsdorf GmbH

Friederike Floth
Rindermarkt 7
Tel.: +49 (0) 89 189 087 335
ff@pr-vonharsdorf.de
80331 Munich, Germany
Fax: +49 (0) 89 189 087 339
www.pr-vonharsdorf.de
To unsubscribe from our PR activities, please send an e-mail with the subject line "cancel PR" to presse@assmann.com. Your email address will be deleted automatically from the e-mail distribution list. If you like to update your contact details, please send an e-mail with the subject line "update contact" to presse@assmann.com.